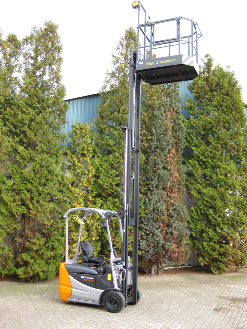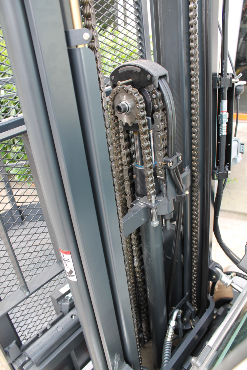 Incidentally used access platform on lift trucks (some countries only)
Nijhuis Engineering Dronten BV offers you the opportunity to use your lift truck as incidental access platform. The HH02 is a simple detachable platform which is provided with a motion release button for the lifting and lowering movements in the access platform. For this, an adjustment is made on the hydraulics and electrics of the lifting of ther truck. The machine is equipped with the platform administration book according to the Health and Safety Law, Policy 7.23d(Netherlands only).
While performing work in the tank above 2,5 meters, the use of safety harnesses' is strongly advised.
Certain lifting or reach trucks lift the fork with only one lift chain, this is not permitted for use as a person lifter. In this case, a second back up chain is mounted.
Every machine is tested by Aboma for commissioning. Every trucks which have been destined for outdoor use  must have a tilt test on our tilting platform. The truck will tries to five degrees inclination, for approval, the truck gets a table for use up to three degrees of tilt.
The platforms are available in steel and aluminum. Various special versions also are on customer request also available.
Specifications:
System fully according to policy 7.23d Occupational Health and Safety Act.
Produced second lift chain (if possible). 
Converter if voltage truck >48 volts.
Optional tool tray.
Safety Harness.
Painted in company colors.
Explosion protection, ATEX Zone 2.
Make it possible to intervene at height safely and
quickly in an emergency with your own truck.