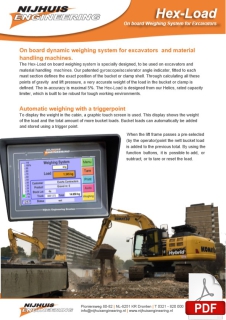 Hex-load - Weighing System for Hydraulic Excavators
Hex-Load is a brand new weighing system which design is based on our Helics weighing safe load limiter. The weighing system determines the position of the lifting hook or bucket with angle transmitters on each boom section and the quick coupler. By means of  pressure sensors in the lift cylinders it determines the load, compensating for the weight and the centre point of gravity of each section. It is possible to select different tools. It enables very accurate weighing in each configuration. 
Information of the weight and the tool selection can be obtained from the touch screen display in the cab. It is possible to connect a printer directly to the weighing system, to print out a weighing information in the cabin. 
Data can also be stored on the USB flash drive, available in the system. This data can then be transferred to a PC and can be edited with Excel.
Weightings can be done automatically by means of a trigger point on the boom or manually in all other positions via the in-cab display.